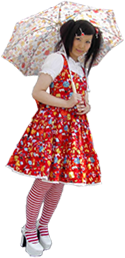 + Metamorphose Temps De Fille - Biscuit Print +
Hate it at first glance? You aren't alone, I did too, but then it haunted my dreams... This garish, spot-you-from-a-mile-away print holds a special place in my heart.
One of my Biscuit co-ordinates:
The original photoshoot from 2003:
The print was first released in 2003, designed by Ms. Kuniko Kato, the original Meta designer, and it was one of Metamorphose's first custom prints. (In that they had only ever made items with commercially available fabric before) It might have been their very first custom fabric but I'm not sure on that.
Here's an article from the Gothic Lolita Bible issue 11 about the origin story of Metamorphose. I love that Ms. Kato is wearing the Biscuit print. She looks so cute in it!
There is a translation of the article text here: Velvet Translations Blog
Scan Credit: from Lolita History

The print is pretty typical for Lolita, but a few things make it really unique: the fact it has so many colours, the equidistant design elements, and the super simple, bright colour-ways (plain black, white, bright red). Pink was added later (and I'm not so much a fan of that colourway.) Lots of extra items were released featuring the print, including an umbrella, bag and handkerchief, which at the time for Meta was a complete first.
The print makes me feel strangely comforted... I think of Ai Yazawa and my childhood and sunny days. Old ugly Meta is best Meta. (when I say 'old ugly Meta', I really mean that as a huge compliment. "Ugly" things don't have to be bad. See: grandma's couch gobelin and raschel lace. I think old Meta is extremely charming.)

Other special mentions for prints I love go to:
2007 Apple print
2006 Toybox print
2006 Alphabet print
And that isn't the end of the golden era Meta prints, I just wanted to narrow it down to my top favourites!
All hail Meta!