+ Coordinates Diary +
I'll update this page with outfits as I wear them! This is both EGL and casual outfits.


20 . november . 2020
JSK: Cornet
Blouse: Innocent World
Headbow: BTSSB
Necklace: Metamorphose
Bag: Betty's Blue
Socks, shoes, bloomers: Offbrand
Charm point: Matching tartan bloomers!
It's my and my partner's 6 year anniversary today, but we're in lockdown, so we ended up working lol. Well, we'll probably get takeaway and watch a movie tonight, which is comfier than going out anyway. I just realized you can see my scatterbrained writing on my hand, oh dear. That's a bad habit I've had since I was young. My dumb ass also held the bag the wrong way around. It has a cute Betty's Blue embroidery on the other side. Why are coord pictures always slightly skew whiff...? Oh well lol, c'est la vie.
Listening to: L'Arc~en~Ciel - Flower

12 . november . 2020
Everything thrifted apart from my shoes which are Pleaser Victorian 120s
I'm reminded of like, Siouxsie Sioux, 80s Anne Rice, or Nancy from The Craft with this outfit, (I'm obsessed with the black lipliner she's wearing that one scene where they're in the car, magically running red lights). Oh also, the lady from whom I bought this green and purple sleeveless shirt thing, she told me all these stories about the fun things she did back in the 90s, being a rebellious little goth, it was brilliant.
Listening to: Bauhaus - Ziggy Stardust

03 . november . 2020
OP: Baby the Stars Shine Bright - 2003 Corduroy JSK with Sleeves (no idea why it's labelled as a JSK with sleeves lmao)
Bolero: Victorian Maiden - 1999 Bolero
Comfy outfit for work at home. (and nasty brushed out hair, in desperate need of a re-dye) Realistically, I don't wear any accessories or anything zippy just to sit at my PC for 12 hours.
How does time fly by so fast this year? /End grumbling. I'm back to working more regularly, and also spending time on ongoing side projects--and as depressing as it is to say, working and being productive actually makes me so much less anxious.
Listening to: The Correspondents - Fear and Delight

24 . september . 2020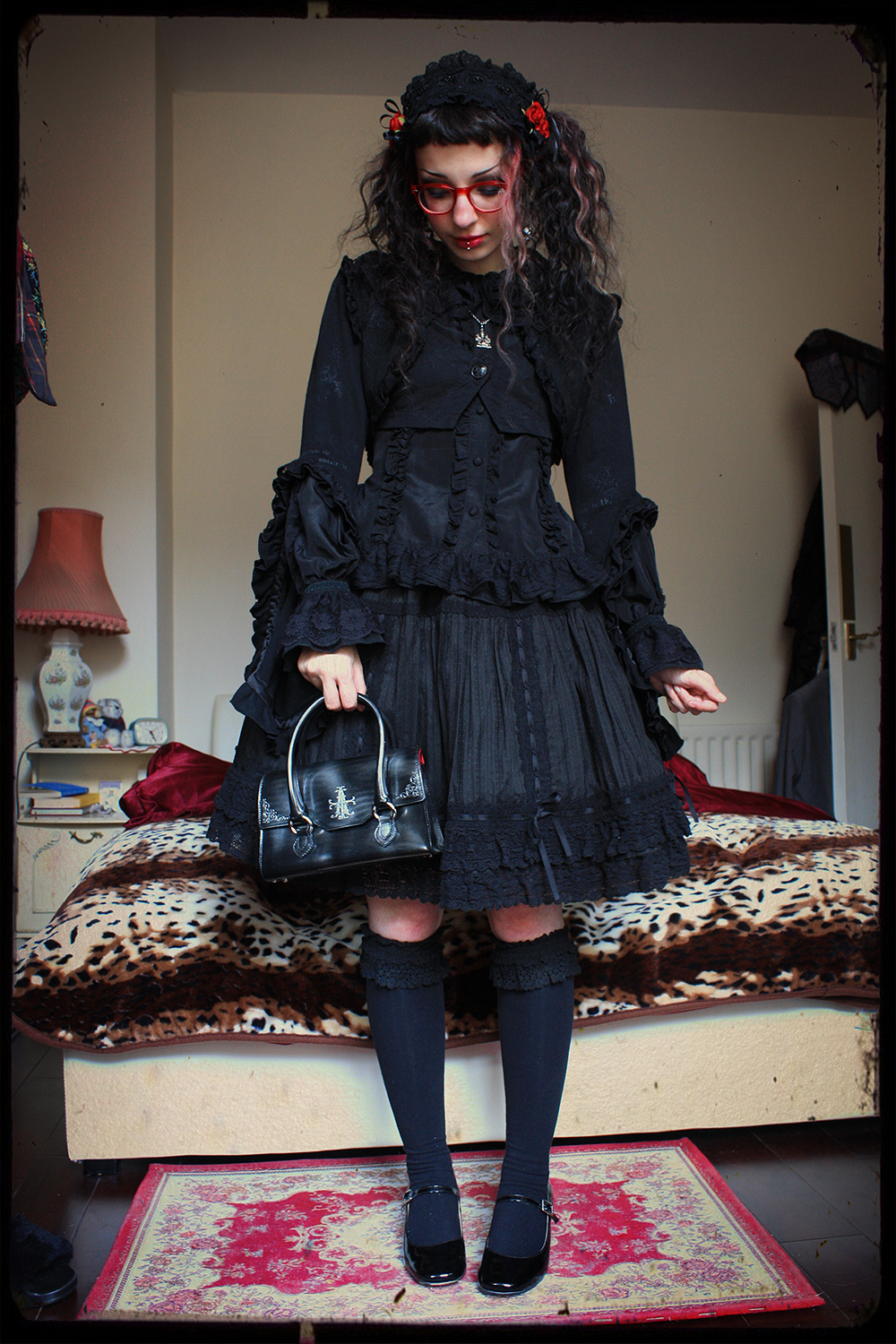 Skirt: Baby the Stars Shine Bright - Karami skirt
Blouse: Metamorphose
Bolero: H.naoto
Headdress: Innocent world
Necklace: Moi Meme Moitie
Necklace: Artherapie
I just did housework and some drawing today, so I threw the shoes on for a photo, lol.
It's finally cold in the UK, though my area is in a lockdown, so I can't even pissing go out or meet anyone. And it's my birthday in a week. This shit sucks man. Anyway I'm going to try to consciously care less about it, because this wankery is here to stay, at least for the forseeable future. I've got lots of crafty plans that I'm going to start soon, to take my mind off things.
Listening to: Malice Mizer - Kyomu No Naka De Yuugi

20 . september . 2020
Coat: Atelier Boz - Extensa Roland Jacket
Shorts: Alice and the Pirates - Lucian Martin Pants
Waistcoat: Black Peace Now
Blouse: Emily Temple Cute
Tie: Handmade
Multiple pictures, because I'm being extra.
Listening to: Tom Lehrer - The Masochism Tango

5 . september . 2020
Jacket: Black Peace Now
Blouse: Peace Now
Shorts: Black Peace Now
Boots: Dr Martens
Tie: Peace Now
Excuse the bad quality picture and the fact that my bedroom is a mess, haha. I was in a rush to take this before I went out. I met up with my friend again and we hung out in the city. I wanted to wear some of the new items I've recieved in the mail recently, so I wore entirely BPN which makes me very happy. RIP to the best brand. :-( I was going for sort of military ouji, I felt very Hellsing in this outfit. I LOVE the braces on these shorts, and the way that this blouse looks with a tie.
Listening to: Rammstein - Der Meister

25 . august . 2020
Jacket: Spin Doctor
Top: Peace Now
Shorts: Lip Service
Boots: Dr Martens
Belt: Urban Outfitters
Bluh, my health ended up getting worse so I've not been out much since the last entry other than to buy groceries. I wore this to meet my dear friend, and had a really nice time getting out of the apartment. We got boba and street food for the first time in like six months (Chinese mushroom & egg steamed buns), I'm really glad that place survived the lockdown since lots of my other favourite places have now shut down. I'm trying to dig myself out of the hole I've been in, get back into the things I love to do—drawing, cooking, sewing. It's hard but things are on an upward trend, and I'm hoping my flare-up improves soon so I can dress cool again regularly. I've been binge reading Dorohedoro again the past few days, which has been my new obsession for a while. The manga seriously rocks. It's really inspiring artistically too. I highly reccomend it!
Listening to: Bôa - Rain

02 . august . 2020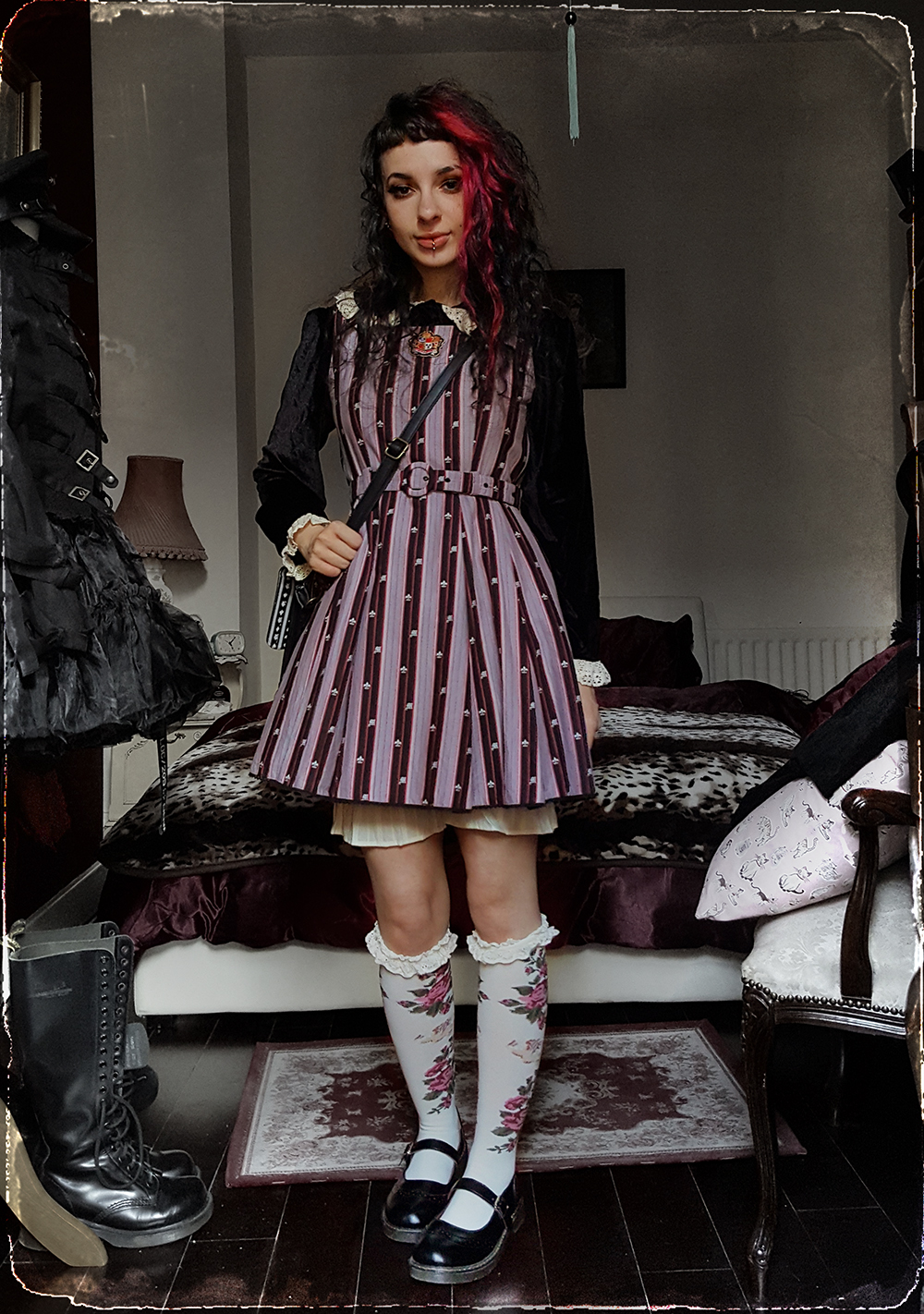 JSK: Metamorphose - Regimental Stripe Print JSK (mini length)
Socks: Innocent world - Angel Rose socks
I haven't been able to get dressed properly for over a week due to mental (and) health issues, so I'm only just getting a chance to wear this new JSK. I was expecting it to be short since it's the mini length version but it's REALLY short lol. Anyway, it doesn't matter too much because I think it looks so cute with peeking bloomers. I love the Regimental stripe series so much, it kind of reminds me of a school uniform. It's got this really adorable little Metamorphose crest appliqué thing on it. Though, it's kind of weird for me to enjoy that since I HAD to wear a school uniform for most of my life. My school uniform was pretty shit, just like my school life, so I'll just pretend I went to a idyllic boarding school and wore the regimental stripe series as my uniform, and that my entire childhood didn't actually happen. Suck that, British school system. You don't exist in my brain!
Listening to: Ministry - Everyday is Like Halloween