+ Dollmakers +
Please read the rules before playing!
I've loved pixel dollmakers since I first started using the internet, and always wanted to make my own. Now I'm undertaking that project. The first one is called NostalgiaDoll and should be up to play soon! ^_^
+ Rules +

Please do not redistribute, claim as your own, or reupload the individual images from the dollmakers.


Feel free to make a doll and put it on your website, but please credit me, with a link to this site. Do not post dolls without credit.


Please do not alter the art itself. Feel free to alter your finished doll's background or make it transparent.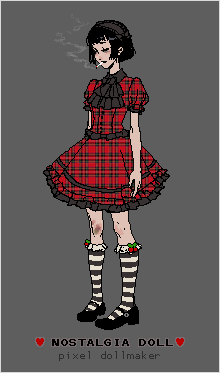 NEW: Nostalgia Doll (currently under construction - check back soon!)

+ How to Play +
Simply drag and drop items from the tabs onto the doll base.
The last item you click will come to the top of all your items.
All the items do fit perfectly onto the base, it sometimes just takes a bit of a steady hand to get them on right.
Saving the image:
To save the image, hit the PrntSc (Print Screen) key and paste it into an image editing program to crop it, and change the background too if you want. OR you can use the 'Snipping Tool' program that most PCs have. (save as a PNG, not JPEG, because pixel art doesn't look good in JPEG.)

Editing tip: If using Photoshop [or Gimp or something... though, why are you using Gimp at all] turn off 'anti-aliasing' when you use the fill tool for the background because aliasing will disturb the pixel outlines.

+ Credits +
Dollmaker code & scripts from Ninique's Dolls